From Messina
From A18 Me/Ct Motorway, exit at Acireale, direction Trecastagni.
From A18 Me/Ct Motorway, exit at S.Gregorio, direction S.Giovanni La Punta-Trecastagni.

From Palermo
From A19 Pa/Ct Motorway, take Tangenziale Ovest until the last exit for Catania,
then go on towards Canalicchio- S.Giovanni La Punta- Trecastagni

By train
When you arrive to the station in Catania, go to AST bus stop and take the bus for Trecastagni.

By Plane
From Catania airport "Fontanarossa", go to railway station by bus AMT, then take a coach AST for Trecastagni.
Bus
Bus stop AST ,Etna Ttrasporti , near "Piazza Giovanni XXIII" square.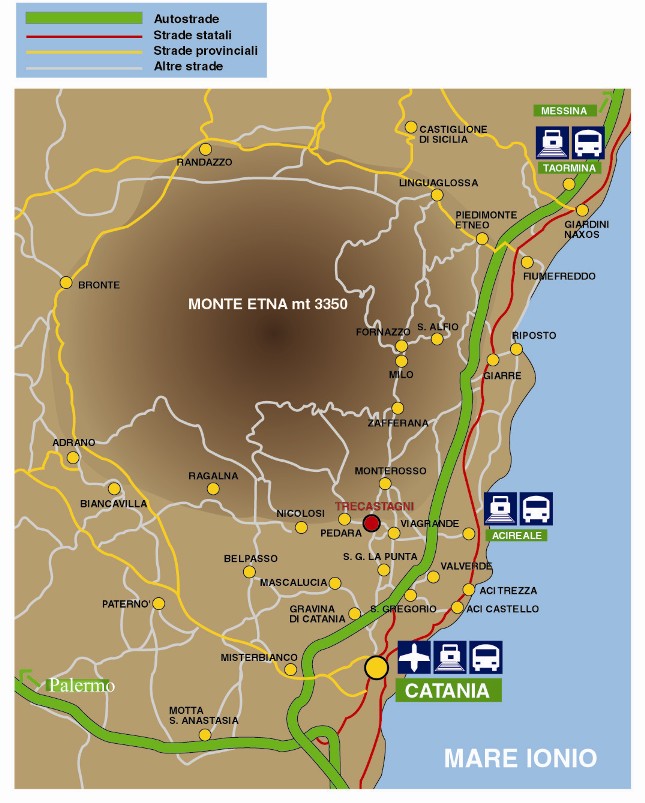 "The village of Trecastagni is
the ideal starting point that
will let you savour the
beauties of the eastern sicily
Ralph Giordano